635 total views, 1 views today
Setting up an SMTP server, which will handle email delivery, is important before setting up a mail client. Fortunately, setting up SMTP servers is typically extremely simple. All you need to do is open your email program and enter the appropriate SMTP parameters in the settings windows.
However, keep in mind that utilising a conventional SMTP, such as the one connected to free email services like Yahoo, Hotmail, or Gmail, does not guarantee the successful delivery of all of your messages (particularly if you are sending to a large number of recipients).
By using our PDF guide, you may choose to set up your own email server. You can enhance your SMTP mail server deliverability by using the information in this document.
Use a reputable SMTP Relay provider if you don't have advanced computer knowledge and would want to go with an easier method. You can sign up for turboSMTP and receive a lifetime bundle of 3000 free relays per month. If necessary, you can then select the plan that best meets your needs.
And here is the standard configuration procedure for SMTP in four steps:
1. Choose "Account Settings" from the "Tools" menu of your email client to access the "Account Settings" voice menu.
2. Choose the "Outgoing server (SMTP)" option.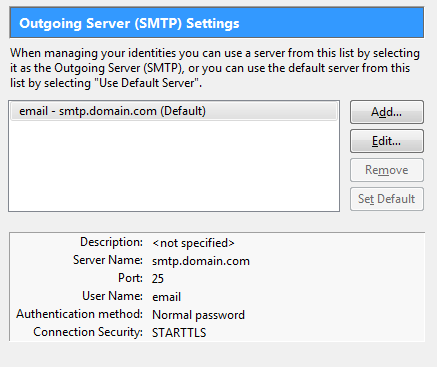 3. Click the "Add…" button to configure a new SMTP. The following window will appear: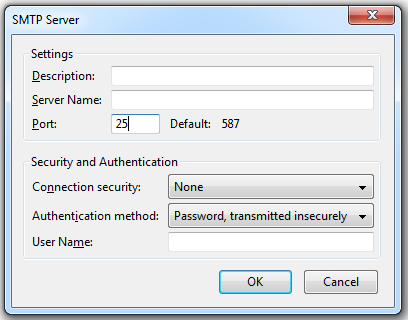 4.  Now simply fill the voices with the following:
Description

:

An informal name that you choose to identify the server (it is better to use the email provider's name, such as Gmail or Yahoo).

Server Name

: the actual SMTP server's specification. You can find it either consulting the web page of your provider, or searching for it on our

list of server POP and SMTP

.

Port

: usually SMTP works with port 25, but as the screenshot shows it can work also with 587. For further information, check out our article about SMTP ports.

Connection security

:

SMTP email transfer does not provide encryption by default. Use a STARTTLS or SSL/TLS extension, which use a dedicated port for encrypted communication, if you wish to increase the security of your connection.

Authentication

method: there's a certain number of methods (passwords, CRAM-MD5, KERBEROS etc.).

User Name

: your email address.