2,366 total views, 3 views today
Webmail services such as Hotmail or Outlook are wonderful for accessing your email account online; but, you may prefer to check your mailbox using desktop software such as Mozilla Thunderbird or Microsoft Outlook. In reality, a mail client can be more convenient and typically offers more account management capabilities.
To accomplish this, you must configure Hotmail's SMTP settings. Which is very simple, however…
Sadly, Hotmail's SMTP imposes a limit on outgoing emails to prevent spammers from abusing it and to help their shared IPs function more efficiently without email queues: you can send up to 300 messages per day and handle up to 100 recipients per message.
If you are launching an email marketing campaign or need more relays, you should use a professional SMTP Relay service that allows you to send an unlimited number of messages. SMTPServer provides you with 3000 free emails per month forever.
Thus, here is how to configure Hotmail's SMTP server: Simply launch the setting window of your application.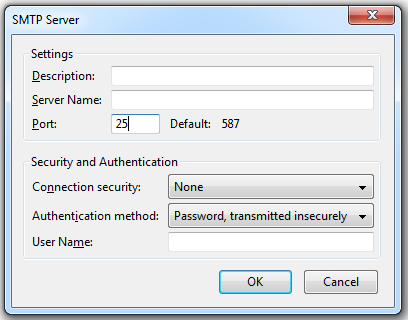 insert your Windows Live / Hotmail SMTP information:
Hotmail SMTP server name

: smtp.live.com

Hotmail SMTP user name

: your Hotmail account

Hotmail SMTP password

: your Hotmail password

Hotmail SMTP port

: 25 or 465
Finally, you can select your security and authentication preferences: Please consult our page on SMTP configuration for further information.
And that's it!
Link