321 total views, 8 views today
In recent years, artificial intelligence has become increasingly valuable to email marketers.
Boosting email marketing's return on investment (ROI) is a challenge for some businesses. Therefore, recent studies indicate that they will be adopting Artificial Intelligence (AI) in the near future.
Most marketers (69%) still only consider their email marketing strategy to be "somewhat successful," according to data from the recently published "Email Marketing: Strategies, Tactics & Trends" report by Ascend2. Challenges have arisen for email marketers most often in the areas of increasing engagement (63%), measuring performance/ROI (44%), and developing an overarching strategy (38%).
As a result, more and more professionals in the field are beginning to recognize AI's potential in the realm of email marketing. Three-quarters of respondents thought it might be helpful for email retargeting, and the same percentage thought it might be useful for creating customized newsletters. About a third of the population thinks it could help them learn more about their customers' journeys through various stages of their lives.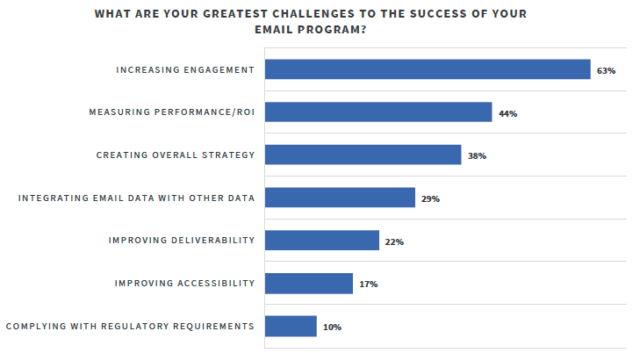 How to Tell If Your Email Marketing Is Working
Previous research indicates that open rates continue to rise, despite the fact that many marketers are still struggling to leverage email.
It was found in Knak's "2022 Email Marketing Benchmark Report" that marketers' average daily delivery rate is 93%, down 3.2% from the previous year. On the other hand, the median open rate is 24%, an increase of 3% from the previous year. In addition, the typical CTR is 10%, an increase of 4.4% year-over-year.
Over half of those who responded said their open rates had increased over the previous 12 months. The majority of respondents (44%) also reported an increase in click-throughs.