1,285,142 total views, 48 views today
We are in an era where time is at the essence and automation is the new normal. We are in 2021, so you probably should use some kind of automatic email list cleaning system. It is also quicker and more effective, which means you have more time to concentrate on the important things which you need to do to develop your business. There are many advantages you can reap by using a cleaning service with an email list.
Read More about Email List Cleaning: Why Cleaning Your List Is Important to get High ROI 
Email Validation
As soon as someone signs up, the service will validate emails and make sure they are not fraudulent or wrong. From the very beginning, this is a perfect way to prevent email list bloat. It is a basic check that most automatic email list cleaning system does.
Fix Common Typos
An email list scrubbing or cleaning service may also recognize common typos and automatically fix them. This is particularly true of popular email client misspellings, such as mistyping Gmail instead of Gmail, Yahoo instead of Yahoo!, outlook instead of Outlook, etc. to name a few.
Bulk Email Verification
Verifying emails in bulk is a simple task for email list cleaning services. Often, their clients have the same subscribers, which makes the process even more successful and less time-consuming.
Block Potential Fake Emails
The whole process is messed up by fake email addresses. To your list, they add unnecessary bulk and complicate your metrics. The metrics give undesirable results which may create unnecessary confusion among the marketing people. Using a cleaning service for an email list helps block certain addresses from ever being on your list.
3 Email Verification Services
Any subscriber who provides you with an email address immediately gets cleaned up by an email validation service. This is a perfect way to get started on the right foot and make the cleaning of the email list in the future easier. There are three resources that you will find useful are mentioned below.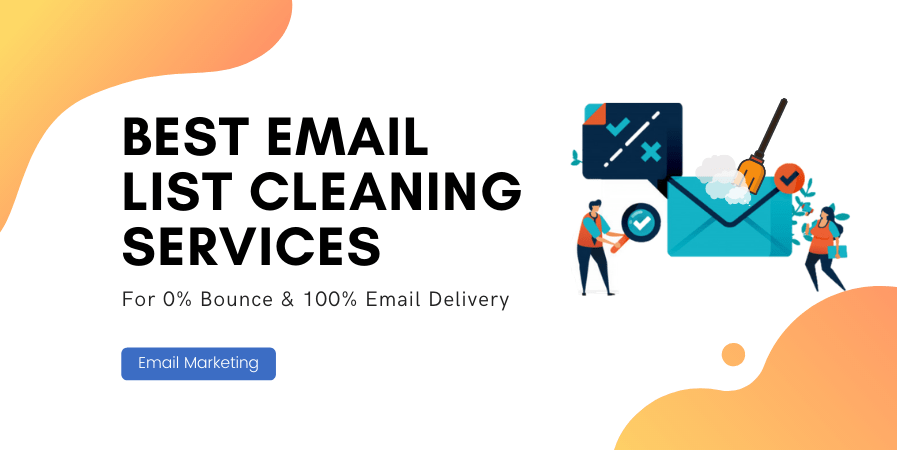 Mailget List Cleaning
Mailget List Cleaning helps you to upload your list and get it cleaned and checked by clicking a single button, claiming 98 percent precision. Based on the size of the list, the cost varies. A list of 1,000 subscribers would cost only $4 to check at the time of this writing. The scale goes all the way up to 10 million, which costs about $3,000.
Xverify
I like Xverify because it is intensely focused on security. It wants to protect and generate safe, problem-free email lists for its customers. For 500 email addresses, it only costs $5 and for 2.5 million addresses it costs around $2500. No minimum requirements or setup costs are levied by the company, which is definitely a plus. It also has plenty of confidence badges and testimonials, showing that clients are satisfied with the service.
QuickEmailVerification
It is a bit different. You can use QuickEmailVerification for free. You must search your email list every day in 100-address chunks. But if you want the entire list to be checked, you will pay anywhere from $4 to $3,500. The firm works on a credit basis. In other words, for email list cleaning, you purchase credits to use. If you do not use them all, your credits get to carry forward and you can purchase one-time or regular credits, depending on your needs. Link